We are committed to helping you achieve your life's goals and dreams. In order to help you, your family, or your company achieve its financial goals, we first need to understand what you value most. Utilizing our Wealth Optimization Model, we dedicate as much time as needed to truly understand each client's financial picture, risk tolerance, and key relationships in order to identify the most effective strategies. We then provide recommendations on how to best achieve what is most important to you.
The four step Wealth Optimization Model enables you to make informed financial decisions that reflect what you value most: family and friends, home and travel, adventure and leisure, personal and professional pursuits, philanthropy and community engagement. The process aims to discover and regularly rediscover your goals and aspirations for the future to make sure we remain on track for your financial success, on your terms.   How else could you feel confident, self-assured, empowered, and good about your wealth?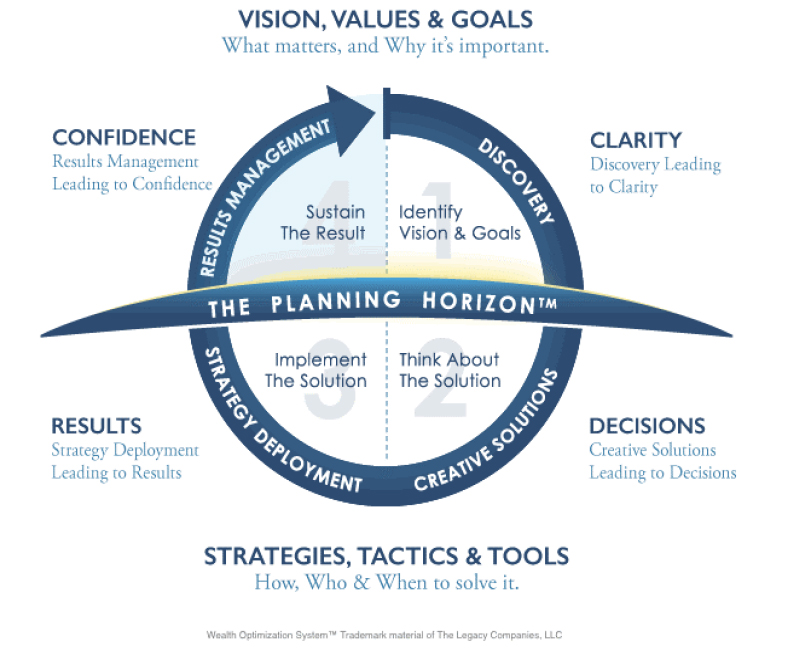 Retirement Income Planning
Planning for retirement and planning retirement income require two different strategies, and have different criteria for success. We can develop a quality retirement income planning strategy to help ensure your investments are working for you and producing a regular, sustainable income stream that takes into account Social Security, pensions and the taxation of each.
Investing for You
Common wisdom says that you should invest. But what does that actually mean for you? Your needs and goals for your money depend on where you are now, and where you want to go. Together, we will create a detailed, disciplined asset management strategy, a plan of action that's specific to you. So it's not just "investing." It's investing that's just for you.
Estate and Generational Planning
As we mature, our thoughts move away from the now and focus on the "what will be." Questions arise like, "What can I do to help my children?" "How can I give my wealth to causes I support?" and "What is my legacy?" We will help you answer these questions and prepare a transition plan for your assets with the help of quality legal and tax professionals.
College Funding
College costs are on the rise – what are you doing to help plan for your child's or grandchild's education? We can help you set up tax-advantaged accounts for higher education expenses and provide resources on how to lower the cost of college through scholarships and financial aid.
401(k) Planning
For many investors, the 401(k) plan (or a similar defined contribution plan) is the primary way to save for retirement. This singular focus could actually jeopardize a successful retirement. Most plans do not provide one-on-one investment guidance. When you work with The Wallace Group, we are able to review your 401(k) plan options and make investment recommendations that take into account your other assets, overall goals and risk tolerance.
Financial Planning
Investments are only a part of your complete financial picture. Your goals, existing debt, income sources, savings plans, and even your opinion of money can impact your path toward financial independence. A financial plan can catalog all of these items and more, providing clarity in your financial life and identifying action steps to help you complete your goals.
Our Firm
The Wallace Group is an independent firm that was founded in 1954 in Boston, Massachusetts, by the late Michael T. Wallace, Sr.  We are investment advisor representatives with a fiduciary, legal and professional duty to put our clients' interests first. Over the years, the firm has focused chiefly on financial, comprehensive wealth and legacy planning. Our goal is to design beyond the finances and to have your plan reflect your life's goals.
Over the past 60 years, we have built our firm on integrity and trust. We are confident that we will establish a relationship with each new client that will last decades. We provide high quality service. Our attention to detail keeps our clients' financial plans as current as their objectives, financial products, and regulatory rules allow. This is the basis of our commitment to standards and service that was formulated with the founding of our firm.
Patric J. Wallace, CFP®, ChFC®, CLU®
Patric has over 30 years of planning experience. He is a principal of The Wallace Group and a Certified Financial Planner™ professional. After graduation from Franklin and Marshall College with a bachelor's degree in economics, he continued his advanced studies by completing the Chartered Financial Consultant® and Chartered Life Underwriter® designations from the Solomon Heubner School of the American College.
Patric offers customized financial services in the following areas: financial planning, comprehensive portfolio management, employer provided group benefit analysis, ERISA plan consulting, and executive deferred compensation planning. He believes in our long-held family tradition at The Wallace Group that by doing right by the client is key to the retention and generation of new business.
Patric is a member of the Society of Financial Service Professionals and an investment advisor representative and registered representative with Cambridge Investment Research, Inc.
Patric is consistently nationally ranked in the top 10 for Men's Veteran Epee Fencing in the United States Fencing Association (USFA). He is also a private pilot and enjoys skiing, hiking and road cycling. He resides in Sag Harbor, New York.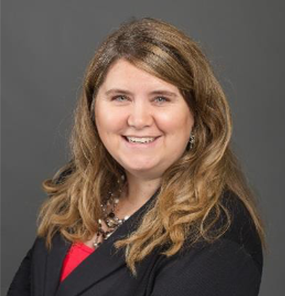 Holly Rachford
Through a partnership with our independent broker-dealer, Cambridge Investment Research, Inc., we have access to a team of virtual office assistants who allow us to spend more time with our clients by taking on some of our administrative tasks. Holly Rachford joined Cambridge in 2018. In her current role, Holly assists financial advisors with administrative responsibilities including account management, reporting and planning, communication, and client management. Holly attended Indian Hills Community College. She currently lives in Batavia, Iowa where she enjoys spending time with her family, traveling, and baking.